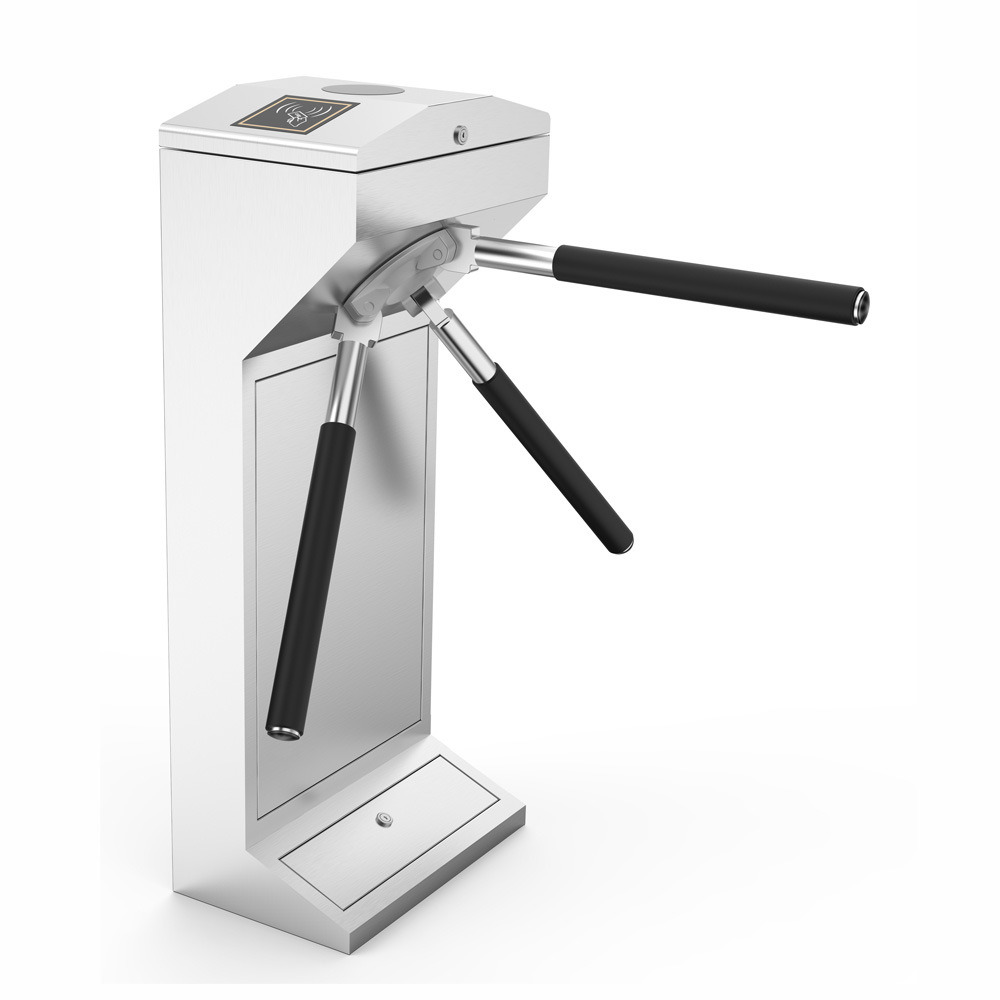 Automatic tripod turnstile barrier gates in Kenya are a form of gate which allows one person to pass at a time as it rotates towards one direction at a time. A very effective method of access control, these modern tripod turnstiles in Kenya incorporate biometrics, including retina scanning, fingerprints, and other individual human characteristics which can be scanned. From a business/revenue standpoint, turnstiles in Kenya give an accurate, verifiable count of attendance. From a security standpoint, they lead patrons to enter single-file, so security personnel have a clear view of each patron. This enables security to efficiently isolate potential trouble or to confiscate any prohibited materials.
These systems have TCP/IP network communication to help data upload and download. Some can be set as either Bidirectional (Entering/Exiting) or Unidirectional. LED indicates the entrance/exit and passing status. An automatic tripod turnstile barrier can be operated through the following ways, making it an integrated solution:
Push to open button

Remote control

Radio-frequency identification(RFID) Cards

Finger Print/Face/Code
When the fire alarm is triggered, the barrier will be dropped automatically for emergency evacuation. The turnstile therefore allows you to clear the passageway quickly in case of emergency, or in case of power loss. It is possible to control the turnstile both from the access control system and by using a remote control or wireless remote-control device (sold separately).
At Solutions unlimited, we advise our clients on the importance of Automatic tripod turnstile barrier gates in Kenya for their businesses and the reasons for installing a tripod turnstile barrier gate in Kenya and how it improves the safety of their businesses. We are authorized dealers of in devices from internationally known brands such as Centurion, ZK teco, HIK Vision among others. Our products and services are available in Malindi, Thika, Meru, Nairobi, Kisumu, Kitale, Naivasha, Mombasa, Eldoret, Busia, Kisii, Embu, Nanyuki, Kericho, Namanga, Malaba, Nakuru,and other major towns. You can also visit our offices for Automatic tripod turnstile barrier gates in Kenya.
SOME OF OUR LOCAL AND INTERNATIONAL CORPORATE CLIENTS:
Note: Carousel will only load on frontend.
Kenya| Uganda| Tanzania| Rwanda| Burundi| South Sudan|
Solutions Unlimited Head Office: First Floor, Bishop Magua Centre, Off Ngong Road-Nairobi Kenya.