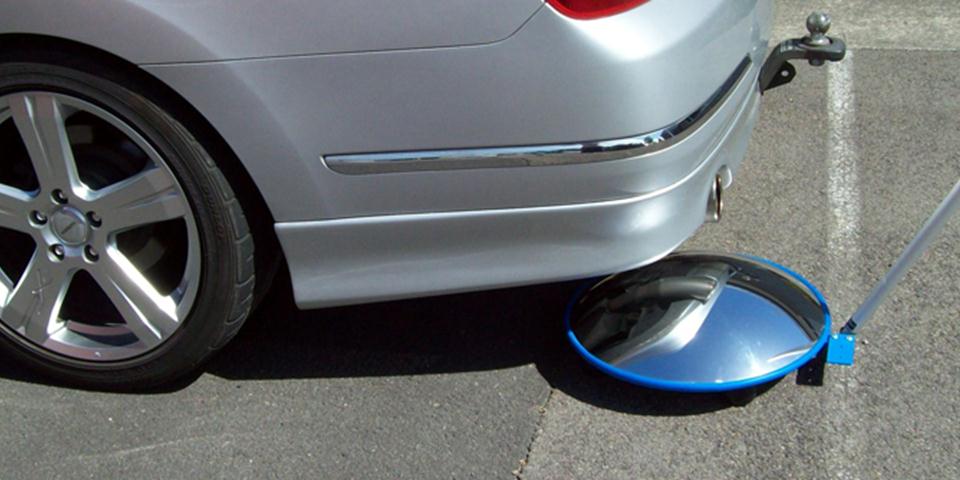 Solutions unlimited is a market leader in the supply of Vehicle Under Search Mirrors in Kenya. We are a supplier, dealer and distributor of car Under Search Mirrors in Kenya. They are also referred to as Under Search Mirrors in Nairobi or Under Vehicle Scanners.
An under-vehicle inspection mirror or just under search mirror is used to detect threats such as explosives that are hidden underneath vehicles. The mirror mounted on a handle captures images of the undercarriage of the motor vehicle for manual visual inspection by security personnel. For applications such as country boarders where the goal is to identify possible contraband movement, mirrors can often be used without compromising safety. However, depending on the vehicle and the type of mirror being used, contraband attached to certain areas of the undercarriage may easily escape detection.
Search mirrors are designed for viewing inaccessible areas both inside and outside of vehicles. They can also be used for viewing areas normally difficult to see in domestic, commercial and government premises for contraband items. Security mirrors are used for a wide range of applications. Many mirrors being specifically designed for use in a particular environment. This is to allow the user to easily areas normally difficult to see such as under a high vehicle, on top of a high sided vehicle, loft areas, under doors etc.
If you are looking for a fair price and where to buy Vehicle Under Search Mirrors in Kenya, our highly trained staff offer free advice on this and other security systems. Solutions Unlimited provides the best home and commercial security systems in Kenya for clients in Thika, Meru, Nairobi, Kisumu, Mombasa, Eldoret, Kisii, Nakuru, Naivasha, Nanyuki, Kericho,Namanga,Busia and other major towns.
SOME OF OUR LOCAL AND INTERNATIONAL CORPORATE CLIENTS:
Note: Carousel will only load on frontend.
Kenya| Uganda| Tanzania| Rwanda| Burundi| South Sudan|
Solutions Unlimited Head Office: First Floor, Bishop Magua Center, Off Ngong Road-Nairobi Kenya