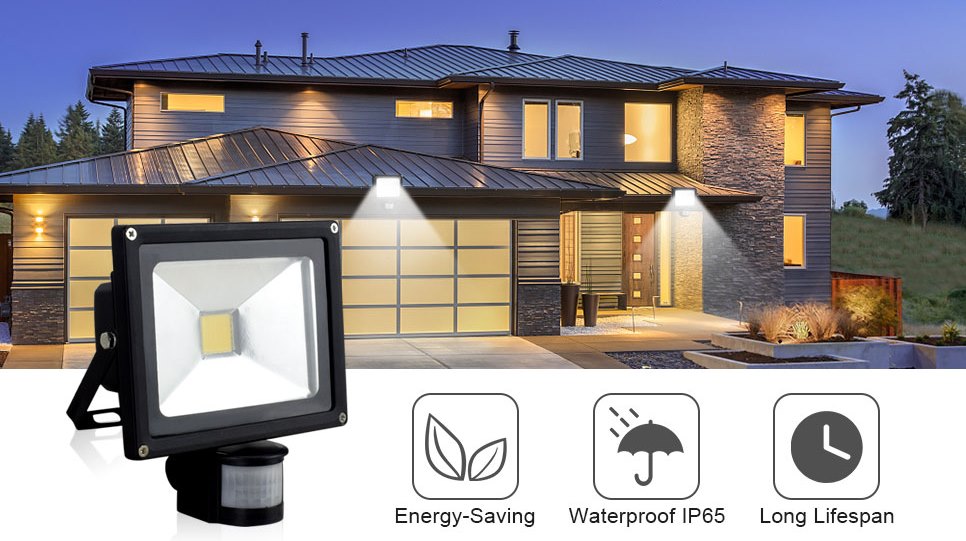 Security LED Flood lights in Kenya are broad beamed lighting fixtures that emit high intensity artificial light. They are typically used in large and improperly lit places as they flood the space with uniform illumination.The traditional lighting fixtures are gradually being replaced by outdoor LED flood lights in Kenya. Energy saving LED flood lights emit white light that beams out at a very broad angle. These lights have a higher lumen per watt output than other conventional lighting solutions. We stock IP65 and IP66 Rated LED flood lights are strong, durable and long lasting. Wall mount and Pole Mount LEDs last up to 10 times longer than other filament or gas-based lights and remain operational for almost 50,000 hours. This eliminates the hassle of replacing bulbs for an extended period of time which eventually reduces the overall maintenance costs.
Our Outdoor Security Flood lights in Kenya can be connected to a motion sensor to light up only when there is motion in a given location. They can also be connected to a photocell so that they are off during the day and light up during the night on their own. Energy efficiency is one of the primary benefits of using LED flood lights. LED is a lighting technology that has revolutionized the whole commercial lighting domain. LED Floodlights in Kenya are one of the most competent electrical appliances that encourage sustainability and savings simultaneously. LED floodlights limit heat emissions as they convert and conserve maximum amount of electricity while covering large areas with illumination.
The coverage of  LED floodlight illumination is estimated as below:
A 10W LED Flood Light covers 10 x 10 meters of the area.
A 30W LED Flood Light covers 20 x 20 meters of the area.
A 50W LED Flood Light covers 30 x 30 meters of the area.
A 100W LED Flood Light covers 50 x 50 meters of the area.
A 200W LED Flood Light covers 100 x 100 meters of the area.
In addition, LED flood lights remain unaffected by weather changes and temperature fluctuations. They don't emit heat, and thus, emerge as the safest lighting option. 
We advise our clients on the reasons for installing LED Security lights with Motion Sensors and how it improves their security. Our services are available in Thika, Meru, Nairobi, Kisumu, Mombasa, Eldoret, Kisii, Nakuru, Naivasha, Nanyuki, Kericho,Namanga,Busia and other major towns.
SOME OF OUR LOCAL AND INTERNATIONAL CORPORATE CLIENTS:
Note: Carousel will only load on frontend.
Kenya| Uganda| Tanzania| Rwanda| Burundi| South Sudan|
Solutions Unlimited Head Office: First Floor, Bishop Magua Centre, Off Ngong Road-Nairobi Kenya.